This site is dedicated to actor Sean Maher, who is probably best known for his role as Dr. Simon Tam in Joss Whedon's TV series Firefly and its follow-up feature film, Serenity. Sean had guest roles on TV series Ghost Whisperer, CSI: Miami, and Drop Dead Diva. He starred as Brian Piccolo in the 2001 remake of Brian's Song and played Ted, the boyfriend of John Stamos' lead character Shel, in the A&E movie Wedding Wars. Upcoming projects include guest roles on The Mentalist and Human Target, as well as a lead role in independent movie Timing.
If you have a feed reader, you can add our RSS Feed to it. Those on Livejournal can be notified of news and updates by adding this news feed to their friendslist. Twitter users can follow us here.

Keep track of Sean's upcoming appearances here.
Screen caps added for Brian's Song and Firefly
Screen captures for
Brian's Song
and for
Firefly
episode 1.05 "Safe" have been added to the
gallery
.
Posted on 19 Oct 2007 by Chris
Sean cancels Serenity: Infinity
Unfortunately, Sean had to cancel his appearance at Serenity: Infinity in Heathrow, UK the first weekend of October, due to scheduling conflicts. Here's hoping that means we'll soon hear of a new project for him!
Posted on 18 Sep 2007 by Chris
Serenity Collector's Edition DVD
The
2-Disc Collector's Edition DVD
(Region 1) of
Serenity
is being released today, with all-new bonus content and a commentary with director Joss Whedon and cast members Nathan Fillion, Adam Baldwin, Summer Glau, and Ron Glass.
Please also remember to
vote for a DVD release
of Sean's series
The $treet
at the Sony Pictures website. (Hint: You will have to choose three shows, and
Cupid
,
Bette
and
Michael Hayes
are all ahead of
The $treet
. You can vote once per day.
Posted on 21 Aug 2007 by Chris
SeanMaher.info is Celebrity Site of the Day
We are happy to announce that SeanMaher.info has been chosen as Celebrity Site of the Day for July 31, 2007.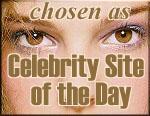 Posted on 31 Jul 2007 by Chris
Sean Maher at Serenity Salute
Creation Entertainment has added Sean Maher to the line-up for their
Firefly/Serenity event
. The convention will take place on October 27-28 at the Burbank Airport Marriott Hotel (near Los Angeles). Sean will appear on Sunday.
Posted on 21 Jul 2007 by Joey
<< Previous ... 2 ... 4 ... 6 ... 8 ... 10 ... 12 13 14 15 16 17 18 19 20 21 22 23 Next >>